A Study of Japan's Nuclear Safety Issues from the view of Risk and Crisis Management
Lecturer:
Dr. Masayasu Miyabayashi
Professor for the Study of Risk and Crisis Management, Chiba Institute of Science
Outline:
Today's theme is to consider issues on Nuclear Safety from the point of view of Risk and Crisis Management Field.
Dr. Miyabayashi entered Ministry of Economy, Trade and Industry in 1967 after he graduated from the Department of Synthetic Chemistry, Faculty of Engineering, the University of Tokyo. Three Mile Island accident happened right before he was assuming the position as First Secretary of Embassy of Japan in the United States of America; it gave him the opportunity to experience, see and observe the nuclear accidents firsthand and at near. His career was developed to science and technology policymaking and activities promotion as well as atomic energy research administration, and he served as Director General of Nuclear Safety Bureau in 1995, at Science and Technology Agency. Ever since 2004, he has been involving with the Risk and Crisis management Study at Chiba Institute of Science.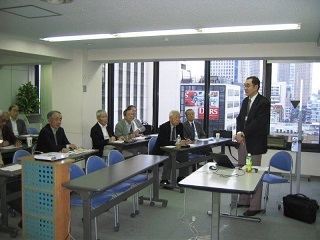 1. Overview
It is regrettable that the current Risk Management Study tends to emphasize only reduction of risk before incidents and that once the harm is done, only top-to-down instruction by the "Management" who sit behind the table is expected. What we need is to open broader mind to incorporate human factors or tendencies into realistic Risk and Crisis Management method.
(1) Risk and Crisis Management Concept
"Before" and "After" the outbreak of crisis must be considered as a part of the whole issue. The bottom line is to put the outbreak of crisis in scope, and we focus on keeping the harm to the tolerable and manageable level when the harm is done, therefore our strategy should be on how to manage the possible damage. Prioritizing the matters is the most critical attitude in total risk management. Partial optimization is the worst attitude.
(2) Basic Concept
We need to be mindful that there is no perfect world - Human makes mistakes; We live in cognitive bias and in distortion. Our human behavior is restricted and impacted by the organizational culture. This being said, our multi-layered defense system needs to be stretched to our working environment, how to lead our way of life in addition to the hardware side.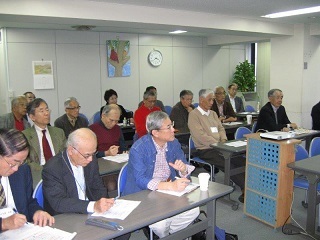 2. Consider Nuclear Safety from Fukushima Nuclear Plant Accident

1. Radioactive debris splattered around from the hydrogen explosion
2. Fuel got exposed due to the meltdown.
These phenomena were similar to what assumed at Three Mile Island accidents.



Tokyo Electric Power – Tokyo Electric Power underestimated and ignored warning and forecast of Giant Tsunami.

Government – The Nuclear and Industrial Safety Agency in METI who was supposed to have first responsibility of giving instruction and supervision threw the entire decision making responsibility to the Cabinet behind the table.

Others – Japanese social trend is of taking the technology as one partial aspect rather than the whole complexity mechanism.


1. Organizational structure and cultural trend
Assignment of human resources have been segmented and disconnected between the general administration and technical and engineer specialists; most of the times, it gives the impression that general administration is superior, and just theory and formality walks by itself.
2. Human Resources and technology
The standard contract for the nuclear plant construction is turnkey system, and deeply depends on the subcontracting. This environment makes it very difficult to all around technical engineer to grow.
3. Management
Top management is not thorough with the actual complicated engineering field, and dominant mainstream executive team has a biased mind to the nuclear technology.
4. Knowledge and Head on Risk and Crisis management
It is hard to say that urgency and the needs of the systematic educational program of Risk and Crisis management are recognized among government body or management of nuclear plant operation companies.
5. Regulations
It is necessary the safety approval is merged with the permission of the design and construction methods. Review and licensing system for nuclear facilities must be simplified and its transparency is increased.

6. Others – Public Awareness

There is strong emotional opposition toward nuclear plants among public. On the other hands, advocating groups tend to insist the necessity of nuclear energy with the view of energy supply and without the enough reflection and recollection toward what did not work out in the safety myths; these extreme opposites are contradicting to each other. What we are lacking most is the humble and sincere attitude in monitoring the risk at all times and dealing with the risk immediately once it was found.

3. Current report on Fukushima Nuclear Plant
Fukushima continues to have some danger and risk, with the unsolved problems. I am afraid we are losing the total sight of Fukushima by focusing too much segmented attention onto the radiological contaminated water problem.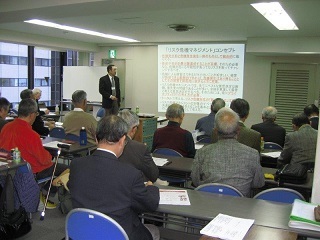 4. Challenges and Conclusion

Audience went utterly silent when the following our nation's challenging problems were risen.

〇 Risk is always existing whether or not the nuclear plant is in operation.
〇 The maintaining cost is constantly incurred and the needs of human resources will be never eliminated till all facilities are demolished after a plant is shut down.
〇 Total decision making of our nation about analysis and management of risks regarding this matter is necessary, as well as securing the human resources.

The Q&A session after the seminar was very down to earth. Especially it was impressive when one of the audiences questioned that our senior generation is too old to solve the problem and we should wait for the younger generation to grow and mature, Dr. Miyabayashi answered with conviction that our senior generation is responsible for leading and taking this task in our hand.